Hey everybody, Miki and I just got back from Japan. We had a great time and ate lots of fish. We went to the city of Asahikawa in the middle of the northern island of Hokkaido.
The trip started at 10am on Monday, Aug 12th when we got dropped off at LAX. Twenty-four hours later we arrived at Miki's parent's place. The plane trip was only about 10 hours, but we had a delay, a layover and a long trip by car.
We woke up the next day, which was Wed because of the time difference, and took a 1.5 hour train trip to the city of Sapporo. Miki's sister went with us and we met with her boyfriend, So-chan, who drove us around to the tourist places.
First we went to the ocean town of Otaru and saw a famous touristy canal. It was about lunchtime, so somebody said sushi and we found a restaurant suggested by a magazine. I thought the sushi was about the same as the stuff we get here in America, but Miki said it was much better. Then we went to the glass and music box district where we did a little souvenir shopping. We found some little musical trinkets and a cool little soy sauce container.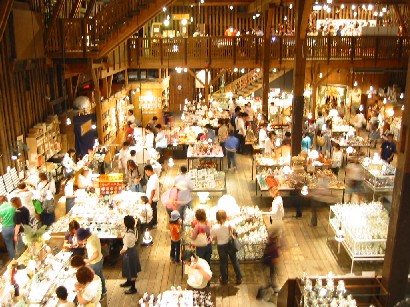 This music box store has three levels
We did a little more shopping at some outlets and then headed for our hotel. It was a western style hotel in which the rooms were about half the size as the rooms here. The cool thing about it was that in the bathroom, a section of the mirror was heated to prevent fogging.
The next day we went to the largest Buddhist shrine in Hokkaido. Here, we are washing our hands and mouth as the sign says.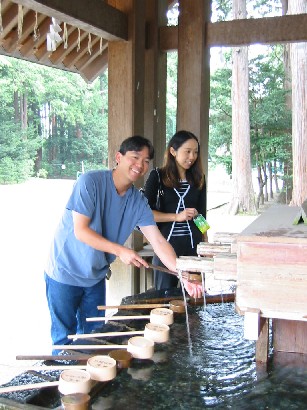 Where are the paper towels?
After looking around a bit and buying some more souvenirs we took off to the ski jump venue of the 1972 winter Olympics. The 4 of us took the ski lift up to the top where we got a great view of the city of Sapporo. That ski jump was really steep and pretty scary from the top.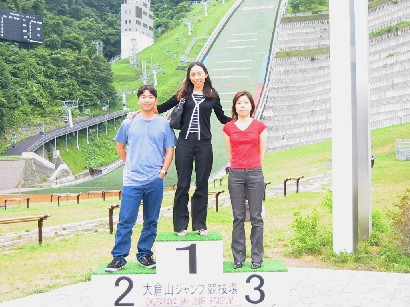 That's Miki's sister, Ie (pronounced eye-ee) on the right.
Next on the to-do list was the Sapporo Dome. This recently built baseball stadium was the cleanest stadium I've ever seen. We took the escalator all the way to the top and found a view of the inside and outside of the stadium. The view outside wasn't as grand as the ski jump, but it did allow a closer view of the city.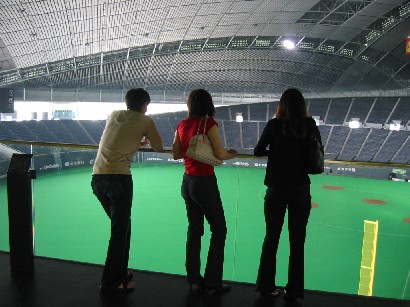 Where's my paper airplane?
We were due back at Miki's parents house that evening so So-chan dropped us off at the train station where we found the trains were delayed. It seems somebody stepped in front of one of the trains and was killed. Well, we finally found a train and made it back a little late. The reason we were due back in the evening is one of Miki's uncle's was having a BBQ and he really wanted us to show up. It turns out he is a major sponsor of a bunch of sumo wrestlers and when we arrived they wanted to take pictures with me because I'm American.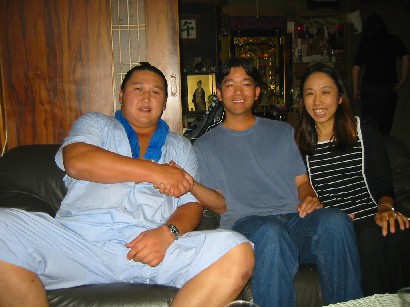 That's the sumo wrestler on the left.
A Japanese BBQ is a little different from ours. They have a bunch of little BBQs lined up and every person cooks his or her own food and eats it right off the grill.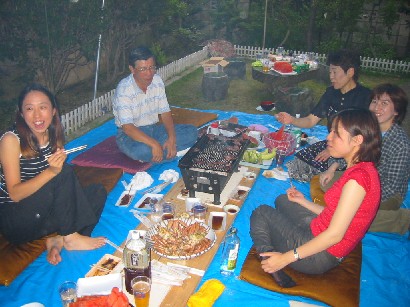 From left to right: Miki, Miki's dad, Miki's aunt, Miki's cousin, and Miki's sister
Friday was a free day so Miki and I walked to downtown Asahikawa and did a little shopping. Saturday was Rie's (Miki's sister) wedding. It was a western style wedding at a church followed by a reception down the street at a French place. The bride didn't wear a kimono, but rather a white wedding gown with a long train. The groom wore a tux with tales. After the ceremony they made a grand exit while being showered with flowers.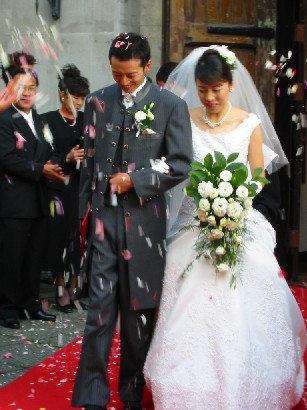 The next day, Sunday, the whole family including the newlyweds, went to see some waterfalls about an hour away. En route, we stopped at the Ice Pavilion. This is a tourist attraction made to simulate the coldest temperature ever recorded in Japan, -41C. Thats about -42F to you and me. Basically, it's a giant, refrigerated building filled with ice tunnels and caves. They gave us parkas to wear while we walked around in the tunnels, but they didn't help much. We came to an area where we hit a button and -41C wind started blowing right at us. I didn't get any pictures because I didn't know what that temperature would do to the camera.
After we ran out of there we exited the building and went sledding. The sledding area was basically a half-pipe with near vertical walls, which we slid down on sleds.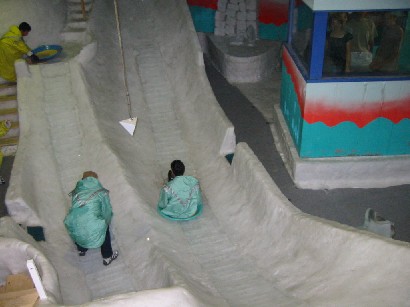 I'm the one on the right
Finally, after that little excursion we made it to the waterfalls. Kinda like Yosemite, don't ya think?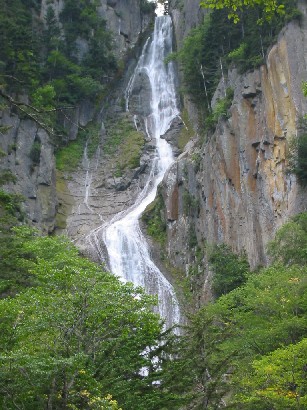 When we were done taking pictures we headed to our hotel. This hotel was pretty cool because it had tatami style rooms. There were 5 men and women whose job it was to stand by the entrance and bow to people as they entered. One of the people there walked us up to our rooms and showed and explained the features of the rooms. Here's a view from the bathtub: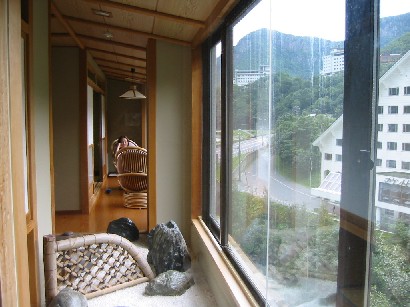 Notice the clear view right to the other hotel.
Yup, you can see right into the other parts of the room and outside. Notice there are no curtains or blinds. Needless to say, taking a shower there was an interesting experience. We met at Miki's parents room for dinner where the hotel served us a 5-course meal ranging from sushi to steak that you cook over a candle-heated stone. I ate just about all the exotic food even though Miki's dad didn't even want to eat some of it.
That's about it, the next day we went home and on Tuesday and Wednesday we did some more shopping. We went home with 2 large suitcases full of Japanese food.
Some general observations:
Japanese don't wear sunglasses. About 98% of the automobiles were black, white, some shade of gray, or blue. The Landcruiser is the most stolen automobile there; they ship them to Russia. Digital cameras are about $150 more expensive and memory is about twice as much. People smoke everywhere, including department stores and churches. Some form of seafood is served with every meal. McDonalds in Japan tastes just as bad.
So, we had a blast and I am pretty good at using chopsticks now. Miki missed Ginger who stayed at our friend's house in San Luis Obispo.
Seeya all later,
Steve and Miki
Below are links to more pictures:
P.S. Miki's parents live next to the Kikkoman soy sauce factory. You would think it would be this high tech factory, but no. It's a wooden building that looks like it should be condemned.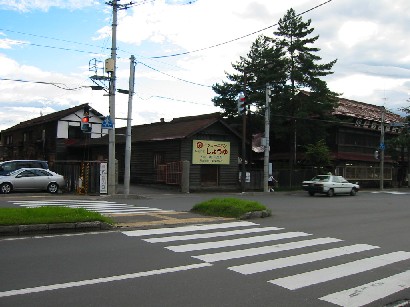 Kikkoman soy sauce factory